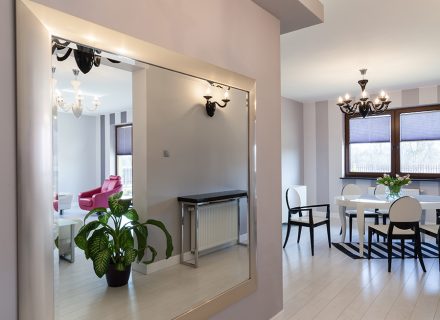 Quite a few different occasions can motivate you to consider the interior design of your home. Maybe you're just moving into a new home, or the changing of the seasons is leaving you yearning for a better vibe where you live.
Whatever the case, you have to decide the scope of your interior design changes. Do you go all out and hire a professional consultant? Do you change your whole home or entire rooms? Or do you make some changes that are small enough to be easy and affordable but offer some tremendous results?
If it's the last one that you're after, then I've got a few ideas you can use. Keep reading to learn 9 of interior tips for 2019 that offer the most bang for the buck: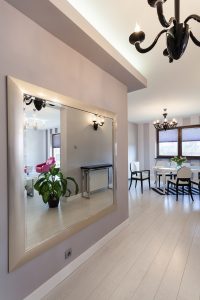 1) Use Paint To Make Rooms Feel Bigger:
Unless you undergo some serious physical home renovations, you're not going to make a small room actually bigger. On the other hand, soft and light colors painted on the walls can make your living room feel a lot bigger than it actually is. You can extend this concept of visual enlargement by letting in all the light you can through the windows.
2) Mirror, Mirror, On The Wall:
Mirrors work great in nearly any room that you want to 'enlarge' visually. This works great in small or cramped bathrooms and powder rooms, but they work even better in rooms with windows where they can reflect natural light coming in. When put in the right spots, they might even help you keep an eye on the kids.
3) An Ottoman Invasion Is Okay:
Nearly any living or bed room can benefit from a light-colored ottoman that has storage space included, which reduces clutter and how much space is used. The right ottoman can be a footrest, makeshift tea table, or just an extra seat when you have company.
4) Soften Your Hardwood Floors:
Hardwood floors are widely considered a beautiful feature to have in many rooms. They're also very easy to keep up. However, they're just not that comfortable during the colder months. Just one throw or area rug in the center of the room can provide a visual center to the room, and it will make the room softer on both your feet and your eyes. Machine-washable rugs make keeping a clean room easier to do. You can even get different rugs for every season so the look of the room never gets stale again.
5) Paint A Bookcase:
If you want some new color, but painting an entire wall or all of them is more than you're willing to do, then consider just painting as single element, like a bookcase. Most bookcases come in dark wooden colors or a cold industrial look. Painting one in any color you want brings a sudden pop of color that brings brightness and new energy to any room in your home. If you want to get really creative, consider wallpapering it. For that matter, you can do the same to fireplace mantles or the head and foot boards of a bed for similar impact.
6) Mix Things Up:
Putting family heirlooms right beside a modern sofa might strike you as wrong, but it's your home and you can do whatever you want. In fact, if you're really going to love your home, it needs to tell your story, reflecting your style and personality. An antique china cabinet passed down through the generations put beside a modern table means every meal can be a celebration of family traditions while new memories are made. Mixing things up doesn't apply to just furniture. You can mix various textures and patterns with one another, and even the affordable with the expensive.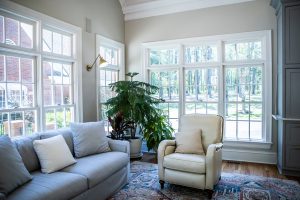 7) Get Some Green Going:
You don't have to paint a wall green, although you can if you want. Instead, you should find plants that you can add to your living space. If you can, put them in every single room. They're cheap accessories, and they bring a lot of benefits. They bring life energy to rooms, and add genuine color. They can also clean up the air in your home by getting pollutants and hurtful gases.
They also absorb humidity, which might make life just a little easier on your air conditioner. While plants do need some upkeep, you can minimize your work with some simple decorative cacti. Alternatively, you can even do some container gardening to start plants early in advance of the growing season. Growing your own herbs and spices indoors also adds delightful aromas to the air.
8) Give Your Kitchen A Hanging Pot Holder:
It only takes a few minutes of looking online to find cheap hanging pot holders. Your kitchen is a great place for some interior design updates just given how important the room is. You likely spend more of your waking hours in here than any other room in your home. Between prepping meals, serving them, and entertaining, nearly everyone that sets foot in your home is going to pass through here. A hanging pot rack can be an elegant element to a room that should be inviting and warm. They're also a sign that a kitchen is a space that is alive and in steady use. Also, the functional aspects are undeniable. Your most commonly used pots and utensils are within easy reach without bending over, and you open more cabinet space for other things. No one complains about having more kitchen storage. Depending on the layout of you kitchen, you can hang one from the ceiling over an island, or just mount one on a wall to make the space both functional and decorative at the same time.
9) Make Wicker Baskets Members Of The Family:
These are a wonderful blend of elegance and economy. They don't cost much, but they can add a rich look to any room, all while adding more storage. Baskets can be used for storing or displaying books, towels, magazines, toys, and blankets, among many other things. Use them in your kitchen to store fruits and veggies, which add the vibrancy of truly naturally color.